---

More than 100 protesters arrested as police in Melbourne, Australia crack down on vaccine mandate demonstrators: Russia Today
The police are totally out of control. Decent Australians need to make it clear that police who are "just following orders" will never be forgiven for their treachery. This article is in the war column instead of the coronavirus column for a reason.
---

The Manhattans - Kiss and Say Goodbye: YouTube
Last night on Tucker's show Tulsi Gabbard came on with uncharacteristic warmongering, saying that radical Islam is our greatest threat and that "we need to bomb these sandni@@ers back to the stone age." Thus, Patrick Slattery is announcing that he is breaking up with Tulsi and that his new internet waifu is Nicki Minaj. He has a load of penicillin on standby.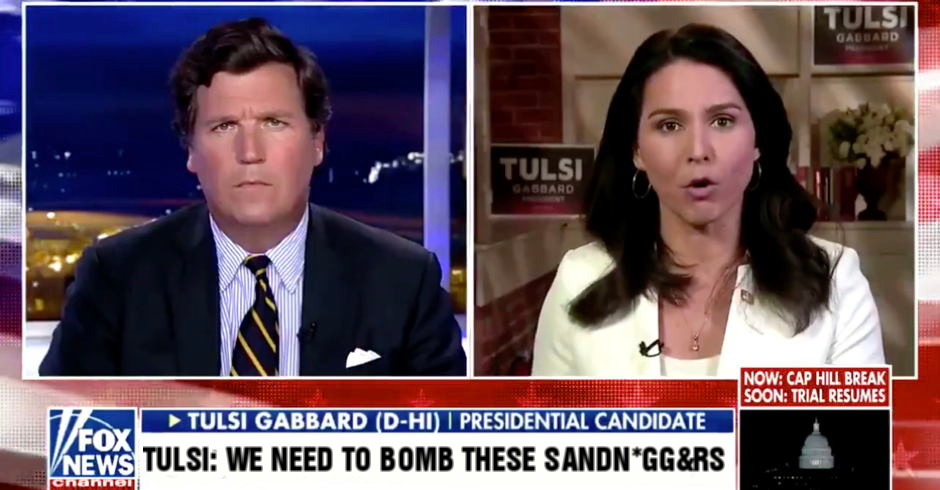 ---

CHINA AND U.S. ARE ON THE BRINK OF WAR: South Front

---

Andrew Anglin on Flying and Fighting for the Anal Flag: Vkontakte from Catacomb1
https://www.unz.com/aanglin/american-endgame-part-i-what-does-america-mean-in-2021/ " . . . the American flag is now synonymous with the anal rainbow flag. "I think it's fair to say that when the American embassy in Moscow started flying the anal flag right next to the American flag, this entire era was defined. "Of course, almost all of the American embassies fly the anal flag. (The one in Afghanistan did.) . . . " Now consider: what would you think if you saw American rioters carrying a Russian flag? If you knew nothing about them, but knew they were Americans, and they were rioting and fighting the cops in a major American city, what would you think they stood for? "Without even thinking about it, you would assume these people stood for: European racial identity Patriarchy Heterosexuality Christianity Western civilization "Whether Russia actually embodies these values or not, Americans view Russia as a symbol of those things."
---

General David Petraeus: Getting Laid in The War on Terror: From Vkontakte's Catacomb1
Mark Dankof: "General David Petraeus is a Superstar in The War on Terror: He demonstrates the Art of Survival Against All Odds: How to Avoid Court Martial, Dishonorable Discharge, and Loss of 4 ⭐️ ⭐️⭐️⭐️ Pension while getting laid every night as Theatre Commander, giving his mistress journalist classified information in writing his puff biography, and now showing his face again on American TV to discuss 'what went wrong in Afghanistan.'" "The real question is this, 'General': 'What has gone wrong in America?'" https://www.washingtonpost.com/world/national-security/how-david-petraeus-avoided-felony-charges-and-possible-prison-time/2016/01/25/d77628dc-bfab-11e5-83d4-42e3bceea902_story.html
---

Military Culture:Veterans who once sought 'hearts and minds' in Afghanistan must now mend their own: J.D. Simkins from The Military Times
Arriving in 2006 with much of the same hubris-fueled perceptions of an enemy now all-too familiar, Blake admitted anticipating "a cakewalk with no action." "We thought it was going to be easy to win hearts and minds."
---

Failed policymakers have no shame on Afghanistan: Daniel Davis from the Washington Examiner
" What's happening in Afghanistan has been nothing short of shocking. "No, I'm not talking about the collapse of the Afghan government and military. That barely registers as surprising. What's hard to understand is that many of the architects of this predictable disaster have been allowed to point the finger of blame at others while escaping the condemnation many of them deserve."
---

Enjoy the Laughs With Mark Dankof and Kevin Barrett: Biden and the New World Order Lose Their Butts in Kabul!: From Mark Dankof's Catacomb

---

Mark Dankof on the Republic Broadcasting Network (RBN) on Tuesday, August 17th, at 1 pm Central Time on National Bugle Radio with Dr. Patrick Slattery: "Afghanistan as Disaster or Opportunity in Disguise?": From Vkontakte
Mark Dankof on the Republic Broadcasting Network (RBN) on Tuesday, August 17th, at 1 pm Central Time on National Bugle Radio with Dr. Patrick Slattery: "Afghanistan as Disaster or Opportunity in Disguise?"
---

Israel moves cyber sabotage units to UAE to turn Persian Gulf into crisis hub: Report: From Press TV
The Israeli regime has reportedly started a cyber-sabotage campaign in the UAE to interfere with the regional air and maritime navigation, thus shifting "the focal point of crisis" from the occupied territories towards the Persian Gulf and the Sea of Oman region. Iran's Nour News agency, affiliated with the country's Supreme National Security Council (SNSC), carried the report on Wednesday, citing an informed security official. "It has been about a month since Mossad (the Israeli spy agency)'s cyber units have transferred advanced equipment to one of the UAE's emirates," the source told the agency. The campaign seeks, on the one hand, to "disrupt the Persian Gulf and Sea of Oman region's air and maritime navigation systems, thus destabilizing the regional security situation," noted the official. On the other, the bid seeks to "transit the focal point of crisis away from the occupied territories towards the region and [therefore] reduce the political and security pressure faced by the regime's ruling body," added the source. 'Sowing discord among regional states' Nour News described the campaign as "a comprehensive plan." It further quoted the official as saying that, through the drive, Tel Aviv sought to sow discord and misunderstanding among the regional countries and force them into uncalled-for conflict. The source described this as "the most essential goal" that was being pursued by the regime. The official said if necessary, more detailed information would be released in due course concerning the whereabouts of the Israeli units, the nature of their technical equipment, and the team's plans. The source, meanwhile, expressed certainty that the Israeli team's work was taking place in "complete coordination" with the United Arab Emirates' intelligence apparatus. The report came only a day after at least four ships broadcast warnings off the Emirati coast, suggesting that they had lost control of their steering operations under unclear circumstances.
---
Click here for more headlines
---

Mark Dankof remembers the Kennedy Assassination: 58 Years Later : From Vkontakte
58 years ago on this November 22nd, the Grassy Knoll gunmen fired the fatal shot from this vantage point at President John F. Kennedy as his motorcade on Elm Street approached the Triple Underpass. X in the middle lane marks the spot (Zapruder film, Frame 313). Mark Dankof photo, 2010/Dallas and his newspapers from 1963 in Montgomery, Alabama (USAF family station). November 1963 photo: Mark Dankof, Floyd Elementary School, Augusta Avenue, Montgomery, Alabama. Photo from the Sixth Floor of the Texas School Book Depository at 411 Elm Street from the Earth Cam at exactly 12:30 pm Central Time on November 22nd, 2021. https://www.earthcam.com/usa/texas/dallas/de… https://m.youtube.com/watch?v=ke2t1NV_iaI
---

Thanksgiving Eve: National Intel Report on RBN: Mark Dankof with Jeremy of Kentucky : From Vkontakte
vember 24th is Thanksgiving Eve in the United States. Mark Dankof is the Special Guest for 2 hours on the late John Stadtmiller's National Intel Report for the Republic Broadcasting Network (RBN). Jeremy of Kentucky is the Guest Host. 5-7 pm Central Time. The show will Archive for later listeners. www.republicbroadcasting.org Topics Include: 1) Biden naming a militant LGBTQ activist and avowed lesbian to supervise American military chaplains out of the Pentagon. https://spectator.org/the-targeting-of-military-… 2) The Rittenhouse verdict and the Waukesha tragedy and the implications of both. 3) Illegal and idiotic American and NATO military operations targeting the Donbass, the Black Sea, the Baltics, and the western borders of Russia via the militarization of Eastern Europe. 4) The absolute complicity of American MSM in both blatant lying and deliberate cover-up in all of these areas and more. 5) Commending Dave Martin's outstanding books on the assassinations of James Forrestal and Vince Foster. 6) Mark looks back at the Kennedy Assassination and his childhood memories of the event, with a salute to his late colleague Michael Collins Piper, whose book, "Final Judgment," has proven to be the final word on who did it and why. https://vk.com/wall468804996_24511 https://mark1marti2.wordpress.com/2021/11/21… https://mark1marti2.wordpress.com/2021/11/0…
---

Masako Ganaha analyzes video of Ashlee Babbitt shooting: Youtube
If you have 14 minutes, watching this video is a good use of your time.
---

New videos capture fatal shooting of Ashli Babbitt during Capitol siege: New York Post
This article and accompanying video were discussed on the Patrick and Jeremy Show. The article is from January 7.
---

Nikki Fried, a former marijuana lobbyist with an office mezuzah, wants to be Florida's first woman governor. She's ready for a rough fight.: Ron Kampeas from Jewish Telegraphic Agency
Fried, a self-described "good Jewish girl from Miami" who can also mudsling with the best of them, is running to replace the Republican DeSantis in next year's statewide elections. DeSantis, who has his eyes on a 2024 presidential run and is not afraid to plant his flags firmly in the middle of the culture war battlefield — see his threat last week to fine school districts that impose mask mandates or his sharp rebuke to President Joe Biden just this week — makes the matchup a prime test of the Trump doctrine and a chance for Fried to grab a national profile. The campaign would also pit two of the state's archetypes against one another: a gregarious Miami-raised Jewish liberal who reviles the state's most famous resident (Donald Trump) and a prickly Roman Catholic from Florida's deeply conservative north who is one of the former president's closest acolytes.
---

Liberal LA Billionaire Ed Buck convicted for drugging, raping, killing gay Black men: Deon Osborne from The Black Wall Street Times
A jury also convicted him on four counts of distribution of methamphetamine, a single count of maintaining a drug-involved premises and two counts of enticement to travel in interstate commerce for prostitution. For years, family members of Buck's victims sought criminal charges against the wealthy donor, but the politically connected predator wasn't arrested until 2019. While prosecutors used the deaths of Gemmel Moore, 26, Timothy Dean, 55, and a third victim to finally indict Ed Buck, investigators say he abused as many as 10 or more victims in his effort to fulfill his fetish for injecting gay men with methamphetamine, who then become unconscious or unable to move while Buck sexually tortures them. Mark Dankof's "Kosher Ed Butt Convicted Video at https://vk.com/wall468804996_20877
---

David Martin's Second Edition: The Assassination of James Forrestal : From Vkontakte
Mark Dankof: "Did America's first Secretary of Defense commit suicide? Or was he deliberately pushed out of an upper story window of Bethesda Naval Hospital in Maryland, the site of the JFK official autopsy over 14 years later? "David Martin makes a compelling case for the latter, with his take on the probable suspects, given Forrestal's point man opposition in the Truman Administration to American recognition of the Zionist State of Israel—-and what he may have come to know about the secrets of Pearl Harbor." David Martin's 2nd Edition of "The Assassination of James Forrestal." David Martin http://www.dcdave.com https://www.jamesforrestal.com http://www.themartyrdomofthomasmerton.com https://dcdave.heresycentral.is/author/dcdave/
---

Mark Dankof for Sputnik International: Biden's Absurd Border Policies: From Mark Dankof's Catacomb
Press reports estimate that as many as 10 million illegal aliens could eventually be placed on a path to citizenship. Between 'Catch and Release' and a blanket amnesty program, both would establish the legitimacy of a literal and ongoing foreign invasion of the United States. How many illegals are already here are unknown, but the best estimates figure approximately 20 million. FAIR estimates this costs some $113 billion dollars a year. In terms of the concerns of Governor Abbott, it is noteworthy that 'only' $29 billion of this involves the Federal Government. $84 billion in costs are born by the States, even as Merrick Garland, Joe Biden, and a Democratic House and Congress plot a course of action in a demographic revolution via illegal immigration that will keep the Democratic Party in power in perpetuity at every level of government in the United States.
---

Alexandra Datig of Front Page Index (FPI) and Mark Dankof of The Freedom Times on Biden's Border Policies for Sputnik International : From Vkontakte
Alexandra Datig of Front Page Index (FPI) and Mark Dankof of The Freedom Times both pan Biden's pathetic border policies:
---

MARK DANKOF: U.S. LIBERAL DEMOCRACY TURNING INTO TOTALITARIAN REGIME REMINISCENT OF THE SOVIET UNION: From South Front
Interview with Mark Dankof. Originally published at the Tehran Times. "I saw a Russia Today story of June 24th quoting Sergei Naryshkin, the head of Russia's Foreign Intelligence Service, as saying that the United States held up as a 'model of liberal democracy is rapidly turning into a totalitarian regime reminiscent of the former Soviet Union," Mark Dankof tells the Tehran Times. "I absolutely agree with this as the development of a domestic police state and the 'irremovability of oligarchic elites'," Dankof notes.
---
Click here for more headlines
---

EXCHANGE TRADED FUNDS (ETFS): Franklin Templeton
Sell your Blackrock ETF's and buy these instead. Or the First Trust funds listed below. These companies may not be perfect, but they are run by goyim, and the ETF's perform at least as well as the Blackrock funds, only with lower fees.
---

Exchange-Traded Funds: First Trust
Look at these alternatives to Blackrock Exchange Traded Funds.
---

Russian National Wealth Fund to Decrease Share of Dollar to Zero, Finance Minister Says: Sputnik News

---

Scoop: Israeli spy chief in talks to join Mnuchin's investment fund: From Axios
The boss of Israel's spy agency has been in private talks with former Treasury secretary Steven Mnuchin about joining his investment fund that will work with Gulf countries, two sources familiar with the conversations tell Axios. Why it matters: Yossi Cohen, director of the Mossad, is retiring next week. But the discussions between him and Mnuchin occurred while he was still serving in his government role, which also included handling Israel's ties with Gulf countries such as Qatar and Saudi Arabia, these sources said.
---

Dumping dollars: Russia ditches over a billion bucks of US government bonds as Moscow continues policy of diversifying investments: From RT
Russia's policy of de-dollarization is showing no signs of slowing down, with new figures from the US Treasury revealing that Moscow dropped its holding of US government securities by over a billion dollars from February to March. In February last year, the Bank of Russia held $5.756 billion, which dropped to just $3.976 billion a month later. Yet only a decade ago, the amount of US government bonds on Moscow's balance sheet exceeded $170 billion. The sell-off began in 2014, following the imposition of harsh anti-Russian sanctions by Washington, but Moscow started to become really serious about de-dollarization in 2018, when it more than halved its US government bonds portfolio and used the money to buy gold, as well as euros and yuan.
---

The Cryptoverse – Bastard Son of the Fiat: David Stockman from Lew Rockwell

---

COLONIAL PIPELINE ADMITS PAYING $4.4M TO DARKSIDE HACKERS, SLOWLY RESTORING OPERATION: From South Front
Mark Dankof: "The paying of a $4.5 million dollar ransom to the DarkSide Colonial Pipeline hackers demonstrate the effective and asymmetrical character of the strategies which suggest that The Empire had better have a workable CYA operation. The truth is that it doesn't."
---

Uber Delivers on Black Lives Matter: Uber
Uber is introducing two new features in support of black-owned restaurants. Users in major cities across the United States and Canada will now see a banner advertising black-owned restaurants nearby. The car service is offering free delivery for any orders placed from these restaurants through the end of 2020.
---

These 18 Corporations Gave Money to Radical Black Lives Matter Group: See below
1. DoorDash
2. Deckers
3. Amazon
4. Gatorade
5. Microsoft
6. Glossier
7. 23andMe
8. Airbnb
9. Unilever
10. Bungie
11. Nabisco
12. Dropbox
13. Fitbit
14. Devolver Digital
15. Skillshare
16. Square Enix
17. Thatgamecompany
18. Tinder

---

These 18 Corporations Gave Money to Radical Black Lives Matter Group: See below
1. DoorDash
DoorDash Inc., which delivers prepared food, gave $500,000 to the organization. In an email to The Daily Signal, DoorDash spokesperson Liz Jarvis-Shean wrote:
In partnership with our Black@DoorDash Employee Resource Group (ERG), DoorDash pledged a total of $1 million in donations, with $500,000 going to Black Lives Matter via the Black Lives Matter Global Network Foundation and $500,000 to create a fund to be directed by the Black@DoorDash ERG towards state and local organizations.
Our goal with these donations and the other actions we announced is to stand with our employees and community members to fight injustice, inequality and discrimination and to support organizations that are working to root out structural and systemic racism and providing local community development, mentorship, education and entrepreneurship programs to support Black communities across the country.

2. Deckers
"Deckers as a company is standing together in solidarity to fight for equality," Deckers Brands said in an email to The Daily Signal.
"To show immediate support, we are donating a total of $500,000 to the following organizations," the clothing company said, listing seven organizations, including "Black Lives Matter Foundation," which it said "builds power to bring justice, healing, and freedom to Black people across the globe."
Although a smaller organization called the Black Lives Matter Foundation exists, as does another called Movement for Black Lives, a blog post from the Deckers brand Ugg links to the Black Lives Matter Global Network Foundation. That post uses language similar to the email from Deckers to The Daily Signal.

3. Amazon
Amazon linked to the BLM Global Network Foundation in a press release June 9, identifying it as among 12 groups that would get a total of $10 million from the online retail giant. Amazon announced:
As part of that effort, Amazon will donate a total of $10 million to organizations that are working to bring about social justice and improve the lives of Black and African Americans. Recipients—selected with the help of Amazon's Black Employee Network (BEN)—include groups focused on combating systemic racism through the legal system as well as those dedicated to expanding educational and economic opportunities for Black communities.

4. Gatorade
Gatorade, the sports drink maker, identified the BLM Global Network Foundation as being among groups benefiting from a $500,000 donation.

5. Microsoft
Microsoft Corp. announced June 5 that it would donate $250,000 to the "Black Lives Matter Foundation," but the computer and technology giant linked to the Black Lives Matter Global Network Foundation.
Microsoft also named five other civil rights organizations with whom it would "deepen our engagement" by donating $250,000 apiece.

6. Glossier
Glossier, a skin care and makeup company, said in a May 30 press release that it would divide $500,000 among five organizations, including "Black Lives Matter," and linked to the BLM Global Network Foundation's website.

7. 23andMe
23andMe CEO Anne Wojcicki announced June 2 that the biotech company and its employees would donate to "Black Lives Matter" and linked to the BLM Global Network Foundation.

8. Airbnb
Airbnb Inc. announced on Twitter that the short-term lodging company was splitting a $500,000 donation between the NAACP and the "@Blklivesmatter Foundation," using the organization's Twitter handle.

9. Unilever
Two of London-based Unilever's personal hygiene brands, Axe and Degree, pledged a total of $350,000 to the BLM Global Network Foundation.

10. Bungie
Bungie Inc. didn't provide a dollar amount, but the video game developer said it would make "financial contributions" to six organizations and linked to the BLM Global Network Foundation.

11. Nabisco
Ritz, the cracker brand from snack manufacturer Nabisco, announced June 4 that it and sister brands were donating $500,000 to the NAACP and to the BLM Global Network Foundation.

12. Dropbox
Dropbox Inc. founder and CEO Drew Houston announced June 3 that he was giving $500,000 to the BLM Global Network Foundation, tagging the group on Twitter and adding that he would match employees' donations.

13. Fitbit
Fitbit Inc., the maker of health and fitness trackers, tagged the BLM Global Network Foundation as a recipient of donations, but didn't say how much.

14. Devolver Digital
Individual employees of Devolver Digital Inc. donated $65,000 to the BLM Global Network Foundation as of June 2 through the video game publisher's ActBlue online giving account.

15. Skillshare
Skillshare CEO Matt Cooper, in an online message June 1, said the online learning company was "donating to the following organizations" and referred to the "official #BlackLivesMatter Global Network," which it said "builds power to bring justice, freedom, and space for imagination and innovation to Black people." Skillshare was among the few businesses to specifically name the network foundation.

16. Square Enix
Square Enix, a game developer, announced that it was giving $250,000 to the NAACP and Black Lives Matter, linking to the BLM Global Network Foundation.

17. Thatgamecompany
In one tweet, thatgamecompany announced plans to give a total of $20,000 to both the NAACP and Black Lives Matter. In a follow-up, the video game developer linked to the BLM Global Network Foundation.

18. Tinder
Tinder Inc., the online dating network, announced that it was donating and provided a link to the BLM Global Network Foundation.
---
Click here for more headlines